Welcome to Chops Lobster Bar.
A classic steakhouse
An Atlanta and South Florida icon known for its exceptional food and service, Chops Lobster Bar consistently ranks as one of the top ten steakhouses in the country. Exquisite seafood flown in fresh daily and the very best USDA prime aged beef are served with style in the warm ambiance of the dark wood dining room. This makes for traditional steakhouse items that go above and beyond such as our certified A5 Wagyu, Nova Scotia Lobster Morsels, and the Genuine Holland Dover Sole. Whether you're dining for business or pleasure, a meal at Chops is sure to leave a lasting impression.
See What Customers Are Saying
Google

,

"Great food and ambiance! My wife and I celebrated our 17th anniversary here and the entire staff made sure it was a memorable one from the moment they opened the door to greet us. Our server, Sandra, was one of the best servers I've had in my life. She was attentive and knowledgeable. We will definitely return!"
Google

,

"I literally lived near this place for over 10 years and never experienced dining here! After 15 years of living here in Atlanta me and some friends decides to dine here last night. The ambience, the food, the drinks, and our server Brendan was amazing and beyond impressive!!! I will definitely be returning to experience more of what they have to offer!"
Google

,

"I celebrated my hubby Bday dinner and it was everything the servers Derrick and Hector the food and ambiance was everything! The prices were reasonable. It provide fine dinning and great vibes. I'm happy that I found a perfect spot for my lobster."
Yelp

,

"I have tried other "must try" steak places in Atlanta, and Chops has definitely set the bar for me. The food along with the staff creates an experience that just can't compare to others. The Buckhead Life Group really knows how to do it!"
Open Table

,

"Incredible food & the most attentive service of any restaurant in Atlanta. The perfect experience."
Open Table

,

"Every time I have received such a high level of attention and respect that I feel like a VIP. Every dish has been perfection—the quality, combination of ingredients, all perfectly prepared and beautifully presented. Definitely make it a priority to dine here when visiting Boca Raton."
OpenTable

,

"Simply Florida's best restaurant. The ambiance, service, food and cocktails are always the BEST. Everything is prepared to perfection. Staff and management anticipate your every need. It's our favorite Florida restaurant."
Trip Advisor

,

"The steaks were cooked to perfection. The fish was delicious. The Oysters were incredible and the service was unreal. This was my first time at Chops and it won't be my last. There is nothing negative I can say as everything was to perfection. Even the water tasted pure! This restaurant should be a 'special occasion' type of place to take someone who means something to you! Enjoy!"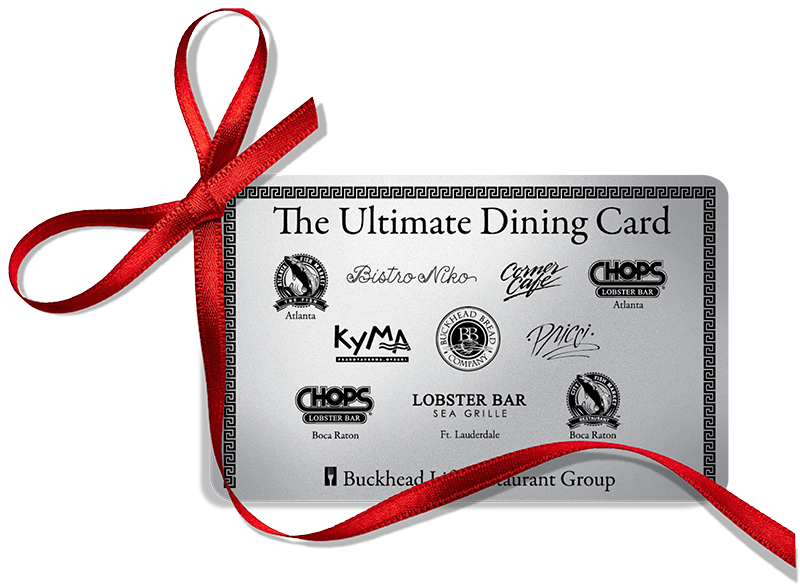 Get More of the Dining Experiences You Love with The Ultimate Dining Card!
The Ultimate Dining Card from Buckhead Life Restaurant Group is a personal dining card, gift and passport to VIP treatment in Atlanta's acclaimed restaurants. The card is valid at all award-winning Buckhead Life restaurants. It never expires, is rechargeable with added value year round. The Ultimate Dining Card is versatile as a gift, personal dining card or as part of ongoing retention and reward programs for your business.
NEW: Instant eGifting available!
Join Our Mailing List
Subscribe to our email list and receive information about exclusive events, exciting offers, Chef news & all things Buckhead Life.
News & Events
Staying in the know!
Our Ultimate Dining Card 20% Holiday Bonus is almost here! Give the gift of an unforgettable night out at any of our restaurants and receive a 20% added value on the card November 25th – December...
read more